<!center><!video controls controlsList="nodownload" src="/video/Gameshows.mp4"><!/center><!br> <!center><!img src="/2020/images/menu/review.jpg"><!/center><!br> <!!! ALL-CON LLC>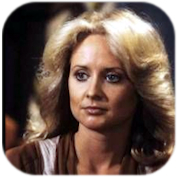 Celebrity Guest

Laurette Spang
Laurette Spang signed a 7-year contract with the Universal Studios in 1972. She had a succession of guest-starring roles in television series including Emergency!, Adam-12, The Streets of San Francisco, The Six Million Dollar Man, Happy Days, Chase, The Secrets of Isis, Charlie's Angels and Lou Grant. Spang also appeared in the television movies Short Walk to Daylight, Runaway! and Sarah T. - Portrait of a Teenage Alcoholic. She co-starred in a production of Winesburg, Ohio on KCET's Hollywood Television Theatre.

Towards the end of her contract with Universal Spang was cast as Cassiopeia in the Battlestar Galactica pilot movie, ''Saga of a Star World''. An initial draft of the script had her killed off in the pilot film, in which the reptiloid Ovions consumed her, almost cannibal-style. However, the character survived and the network kept her on in a regular role in the subsequent weekly series, but ''Standards and Practices'' (network censors) forced a change of profession upon her. The censors would no longer allow her to be a socialator, so Glen Larson and Donald P. Bellisario had her character become a medtech in the series, beginning with ''Lost Planet of the Gods, Parts 1 & 2''.

Spang's later acting performances were in The Love Boat, Fantasy Island, The Dukes of Hazzard and Magnum, P.I.. She took a de facto retirement from acting in 1984, though she made a brief appearance in the 2007 horror film Plot 7, which also featured her by-then husband John McCook. In 2002, Spang appeared in the Battlestar Galactica episode of Sciography documentary series on the Sci-Fi Channel in 2002. In 2003, she appeared in another Battlestar Galactica documentary included as an extra feature in the DVD box set of the series released for the series' 25th anniversary.