<!center><!video controls controlsList="nodownload" src="/video/Gameshows.mp4"><!/center><!br> <!center><!img src="/2018/images/menu/review.jpg"><!/center><!br> <!!! ALL-CON LLC>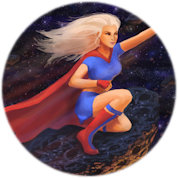 K-Zach Schrotter

Bacon Samurai

---
FRI 2:00p.m.: 20 Sided Trivia (45 mins.)

Room: GAME SHOWS: MAYFAIR [Lobby Level] Rated: Everyone

3 Questions per Contestant
1 20 sided die
A Trivia/Dungeon Master

You have a quest. You only lose if you canít unlock the chest. Winning is based on both trivia acumen and luck of the die.

contestants: 8-10
Speaking: K-Zach Schrotter

Category: Game Show

---
SAT Noon: Next Issue Comic Book Podcast (45 mins.)

Room: LALIQUE II [Ballroom Level] Rated: Everyone

Produced By: Bacon Samurai Productions

Bacon Samurai Productions will record their special ALL-CON episode with an in-depth panel discussion on the importance of visiting your local Comics Shop... we'll talk why brick and mortar still matters, the impact of digital funny books, and why not to bail on retail just yet.
Speaking: Clay Harrison; Kyle Kondas; Adrian Harry; K-Zach Schrotter

Category: Podcast Recording

---
SAT 5:00p.m.: Just A Sec: The Geekly World News Podcast (45 mins.)

Room: LALIQUE I [Ballroom Level] Rated: Mature

Produced By: Bacon Samurai Productions

Your favorite Geekly World News Podcast is returning to ALL-CON! The Bacon Samurai crew brings you The Last Word In Nerd with an open mic forum on the state of the universe in Pop Culture fandom. Comedy, commentary, and Top 5 everything as we hit the stage for a very special episode.
Speaking: Danny Gallagher; K-Zach Schrotter; Adrian Harry; Clay Harrison; Kyle Kondas

Category: Podcast Recording

---
SAT 8:00p.m.: Rantcor Pit After Dark (1 hr. 45 mins.)

Room: BEL-AIR 1 [Lobby Level] Rated: Adult

Produced By: JediCole Universe / Half Ass Productions; Rantcor Pit

For nearly half a decade Cole Houston and Eddie Medina have collectively been The Rantcor Pit. From their audio podcast to their ever-travelling, Dallas based, live-streaming ''The Rantcor Pit Live'' to last year's The Rantcor Pit Road Show, chances are you've seen and/or heard ''Your Favorite Star Wars Guys''. But (for the most part) you've never seen them quite like this!

Eddie and Cole are ready to let their hair down (and maybe their pants, but hopefully not) with a special live presentation that will play bluer than Aunt Beru's milk! Yes this is the late night, no-holds-barred, F-bomb dropping Star Wars X-travaganza you've been waiting for! ''The Moist Side of the Force'' is about to get moister than a Tattooine vaporator at harvest time and exclusively at ALL-CON!

If you thought there were uncomfortable moments in The Last Jedi, well... let's just say this show will make Rian Johnson blush!
Speaking: JediCole Houston; Eddie Medina; K-Zach Schrotter

Category: Performance