<!center><!video controls controlsList="nodownload" src="/video/Gameshows.mp4"><!/center><!br> <!center><!img src="/2018/images/menu/review.jpg"><!/center><!br> <!!! ALL-CON LLC>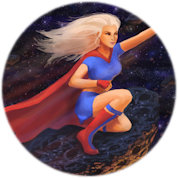 Candice Watson

Candice Watson is a member of DFW Writers Workshop, and one of the hosts of New Girls on the Pod, a podcast all about boy bands. She is also one of the many brave souls featured in The Mortified Guide on Netflix. You can find her online at chaoticgirlie on Twitter.

---
FRI 7:00p.m.: For Sale: One Ship, Already Sunk (45 mins.)

Room: BEL-AIR 4 [Lobby Level] Rated: Teen

It's still the same old story: liking a show or a movie, and loving two of the characters. A lot. So much that you want them to go off into the sunset together. But, alas, the powers that be conspire to keep them apart. Whether it's because of another love or death itself, your fave couple just can't make it work. Come lament about your OTP that can never be.
Speaking: Candice Watson

Category: Discussion Panel