<!center><!video controls controlsList="nodownload" src="/video/Gameshows.mp4"><!/center><!br> <!center><!img src="/2019/images/menu/review.jpg"><!/center><!br> <!!! ALL-CON LLC>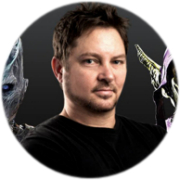 Kevin Lewis

Imaginary FX

Special FX makeup, costumes, characters, cosplay, and more!

Kevin Lewis is a highly-successful creative/art director by day, and an award-winning cosplayer by night and weekend. Born and raised in Dallas, Texas, his childhood fascination with movie special fx, makeup and monsters has evolved into a passion for all things cosplay and pop culture.

After designing and making his own Halloween costumes and competing in (and winning) various costume contests, his focus shifted to cosplaying at cons. His specialties include special fx and prosthetic makeup.

Kevin has been featured on everything from local television to web series and Marvel.com for his cosplays. This has opened doors to work with and cosplay for various non-profit children's charities, something that Kevin is extremely passionate about.

---
FRI 7:00p.m.: Nailed It! Cosplay Edition (4 hrs.)

Room: MESQUITE (1st Floor, Right) Rated: Everyone

Produced By: Chaks Productions; Candy Skull Cosplay; Imaginary FX

Can you recreate an award winning costume with a selection of crafting materials, two hours and sheer determination?

Join Charles Poynter of Chaks Productions, Kevin Lewis of Imaginary FX and Gabby Reed of Candy Skull Cosplay as they guide, critique and declare a winning (and often hilarious) costume!

For the curious... an onlooking audience is also welcome! Come in and watch the fun!
Speaking: Charles Poynter; Kevin Lewis; Gabby Reed

Category: Activity