<!center><!video controls controlsList="nodownload" src="/video/Gameshows.mp4"><!/center><!br> <!center><!img src="/2018/images/menu/review.jpg"><!/center><!br> <!!! ALL-CON LLC>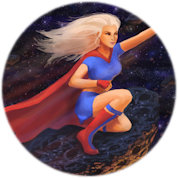 Ty Randolph

Heroic Inner Kids, Oklahoma Chaper

Ty Randolph is probably best known for his Beast and Swamp Thing costumes, but is so much more than that! He is the founder of the Oklahoma chapter of Heroic Inner Kids and has been instrumental in pulling the cosplay community in that area together. You can find more of his work at BFG Cosplay.

Facebook:
www.facebook.com/BFGCosplay

---
FRI 3:00p.m.: Cosplaying with Kids (45 mins.)

Room: BEL-AIR 1 [Lobby Level] Rated: Everyone

Produced By: Mutants, Maidens and Munchkins Cosplay; Heroic Inner Kids

Is your kid's dress up closet overflowing? Do their Halloween costumes put the neighborhood kids to shame? Then you might have a budding cosplayer on your hands!

Come learn helpful hints to making kids' costumes on a budget (after all they grow out of them quickly!) and how to face the challenges of being a ''cosplay mom / dad.''

We'll cover the differences in making costumes for adults vs kids (ie: more limited sizes, smaller budgets, more comfortable costumes) and share some of our favorite local kid costumes.
Speaking: Keely Graesser; Ty Randolph; Anna Hubbard; Ashley Scoggins

Category: Discussion Panel