<!center><!video controls controlsList="nodownload" src="/video/Gameshows.mp4"><!/center><!br> <!center><!img src="/2019/images/menu/review.jpg"><!/center><!br> <!!! ALL-CON LLC>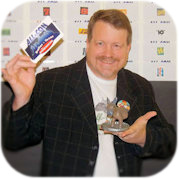 Cole Houston

Games and Theory

ALL-CON fixture since ALL-CON year one (2005), ''JediCole'' Houston has been a vendor, volunteer, content provider, and department head for the convention over the years that followed. Host of a myriad game shows as well as two annual talk shows, he returns year after year with more fun and surprises.

---
SUN 9:00a.m.: JediCole's Morning After (45 mins.)

Room: ELM (2nd Floor, Back) Rated: Teen

Produced By: JediCole Universe / Half Ass Productions

ALL-CON's longest running talk show returns! Waking up early on Sunday morning is not easy, just ask JediCole! But if you are over your hang over from Saturday night be sure to show up 9 AM on Sunday for the annual antics!

Cole ''JediCole'' Houston brings aspects of The JediCole Universe Live to the show as well as some new surprises. JediCole's morning after is not so much a panel as just a gathering place for early birds. There will be laughs and fun and if all goes well, maybe even a special guest or two! Plus another episode of ''It Came From the Dollar Store!''

JediCole and friends will be looking for YOU on Sunday morning!
Speaking: Cole Houston

Category: Game Show