<!center><!video controls controlsList="nodownload" src="/video/Gameshows.mp4"><!/center><!br> <!center><!img src="/2018/images/menu/review.jpg"><!/center><!br> <!!! ALL-CON LLC>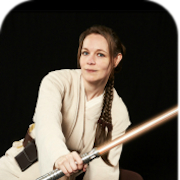 Keely Graesser

Mutants, Maidens and Munchkins Cosplay

Keely Graesser is a graphic designer at Flying Dreams Designs and a homeschooling mom to three munchkins who loves incorporating sci-fi and fantasy into her lessons and using conventions as field trips. She is an active member of The Order of Gallifrey (Whovian costuming group), Heroic Inner Kids, Mandalorian Mercs (Muraan Clan),The Rebel Legion (Kessel Base), The Avengers Initiative (Central Avengers) and North Texas Cosplay.

---
FRI 3:00p.m.: Cosplaying with Kids (45 mins.)

Room: BEL-AIR 1 [Lobby Level] Rated: Everyone

Produced By: Mutants, Maidens and Munchkins Cosplay; Heroic Inner Kids

Is your kid's dress up closet overflowing? Do their Halloween costumes put the neighborhood kids to shame? Then you might have a budding cosplayer on your hands!

Come learn helpful hints to making kids' costumes on a budget (after all they grow out of them quickly!) and how to face the challenges of being a ''cosplay mom / dad.''

We'll cover the differences in making costumes for adults vs kids (ie: more limited sizes, smaller budgets, more comfortable costumes) and share some of our favorite local kid costumes.
Speaking: Keely Graesser; Ty Randolph; Anna Hubbard; Ashley Scoggins

Category: Discussion Panel